Main Content
The core of the urban agriculture movement involves providing communities with access to fresh food, a better understanding of where food comes from and providing education in communities to enable community members to grow and care for their own natural landscape. Encouraging communities to understand and utilize sustainable practices helps preserve our land, and helps to garner a greater respect for the natural environment. Teaching youth trough hands-on service learning projects helps develop more competent caring citizens of the world. Our programs empower youth to become change agents in their communities.
Please browse below to see upcoming opportunities for our gardening programs for families and urban agriculture opportunities for teens.
YOUTH URBAN FARM CLUB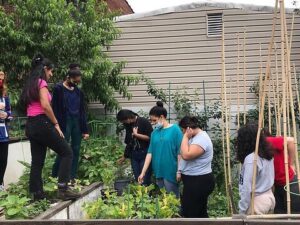 APPLICATIONS WILL OPEN AGAIN IN MARCH 2024.
Youth Urban Farm Club is a summer program serving youth in Hudson County ages 12-18 at community garden and small urban farm sites led by adult volunteers from the community. The goal of this program is for youth to develop new skills in horticulture, urban agriculture, or animal husbandry; serve their community by supporting the maintenance of these sites; and forge relationships with their peers and adult volunteers. Youth gain hands-on experience while also learning about food systems, the local environment, and learning by doing. The program model integrates researched best practices of urban gardening for community development and 4‑H Youth Development curriculum, with the expertise and resources of our County Extension Service and Rutgers University faculty and staff. All programs are managed through the cooperation of 4‑H and community partners. Coming soon in spring and summer 2023.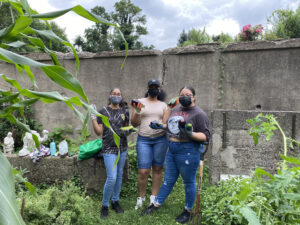 2023 Sites
APPLICATIONS ARE CLOSED AND WILL OPEN AGAIN IN MARCH 2024.
4-H FAMILY LEARNING GARDENS AT LINCOLN PARK AND WEST HUDSON PARK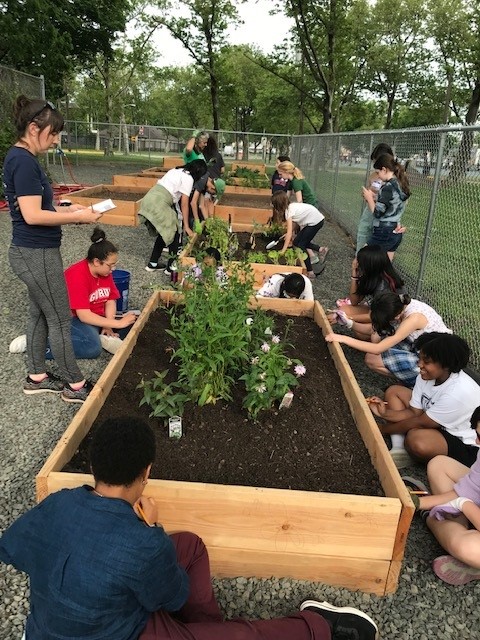 The 4-H Family Learning Garden at Lincoln Park in Jersey City is a partnership between Hudson County 4-H and the Hudson County Department of Health and Human Services, Division of Children and Youth Services, with support from Hudson County Department of Parks. The 4-H Family Learning Garden was built in April 2022, and serves as an outdoor classroom, creating educational opportunities for youth and families to learn gardening skills that they may implement at home and in their communities. In addition to garden programming, our Learning Garden will partner with local community-based groups to provide education on environmental stewardship and nutrition education. The 4-H Family Learning Garden is managed by the 4-H Urban Gardener and with the support of youth and community volunteers. To volunteer, please contact Roxana Marroquin at rm1679@njaes.rutgers.edu.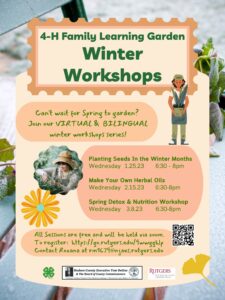 4-H FAMILIES IN THE GARDEN PROGRAM
Hudson County 4-H is hosting the Families in the Garden Program beginning April 2023. There is still time to join the Lincoln Park/Jersey City program! Participants in the program will enjoy workshops covering the gardening process from seed to harvest including planting, pollinators, pest management, harvesting, and small space/container gardening. Families and participants will steward the garden, helping to plant and maintain the garden and have the opportunity to take home some of the food they help grow. Please spread the word to your families, friends, and communities. We would love to have you join us!
For more information on Lincoln Park/Jersey City site, contact Roxana at rm1679@njaes.rutgers.edu.
VOLUNTEERS NEEDED AT 4-H FAMILY LEARNING GARDENS
Join us in stewarding this community resource! Become a 4-H Family Learning Garden volunteer today! Beginning in May, both of our 4-H Family Learning Garden sites will be open for folks to come in and volunteer. Sign up today: https://rutgers.ca1.qualtrics.com/jfe/form/SV_esonO1bKQiw089U
West Hudson Park/Kearny site, contact Natalia nmd174@njaes.rutgers.edu
Lincoln Park/Jersey City site, contact Roxana at rm1679@njaes.rutgers.edu