Main Content
4‑H clubs are run by community volunteers and teach youth life skills around an array of project areas. The clubs are offered for Hudson County youth. Once youth are registered 4‑H members they are welcome to participate in county, state, and national 4‑H events.
4-H programs are run by Hudson County 4-H staff, sometimes in partnership with community organization.

Current Long-Term Club List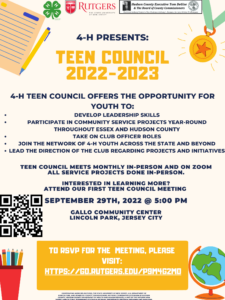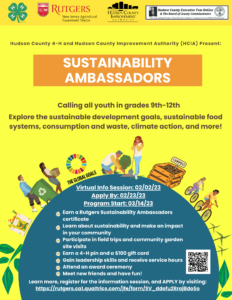 4-H Teen Council, Grades 9th-12th

4-H Teen Council meets virtually every month with in-person volunteer opportunities.

4-H STEM Ambassadors

Applications are now closed and will open again in March 2024.

Lincoln Middle School 4-H Club in Kearny, School-based
Tomorrow's Future 4-H Club in Jersey City, Community center-based
Hudson County 4-H Advisory Board, Adult Volunteers
Sustainability Ambassadors 2023 ( A partnership between Hudson County 4-H and Hudson County Improvement Authority)

Sustainability Ambassadors is an opportunity for teens to explore the sustainable development goals, sustainable food systems, consumption and waste, climate action, and more while gaining a deep understanding of the intersections of sustainability in everyday life, local communities, and globally by participating in virtual and in-person learnings, site visits, and field trips. During the summer, youth will complete 10 volunteer hours at the Hudson County 4-H Youth Urban Farm Club or site of their choosing in Hudson County and design a sustainability or climate action plan as a final project. Those who complete the program will earn a Rutgers Sustainability Ambassadors certificate and $100 gift card. Hudson County youth in grades 9th – 12th. Applications for this program are closed and will open again winter 2024.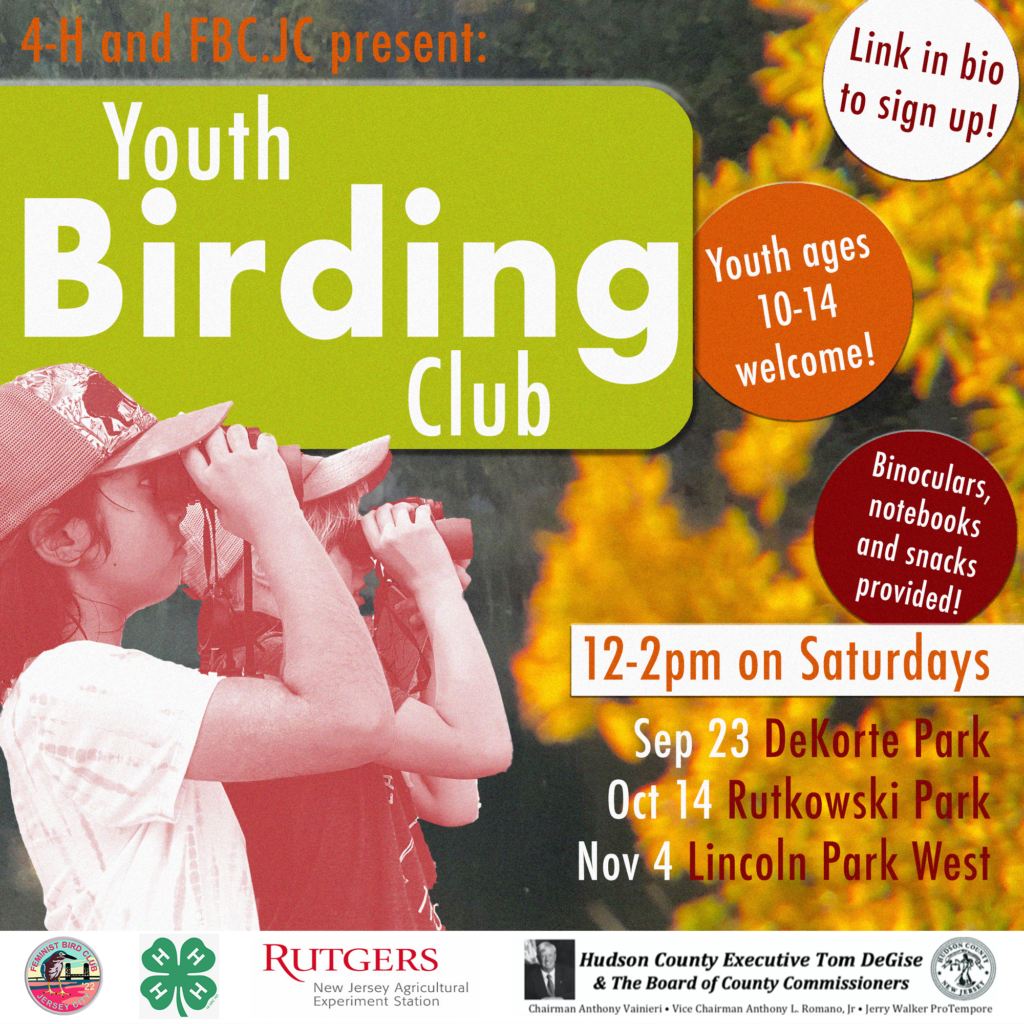 Current Short-Term Club List
4-H and FBCJC Youth Birding Club (grades 4th – 8th)

Youth will gain skills to identify birds in their neighborhood and learn about their importance to biodiversity while enjoying the outdoors.
FALL DATES: September 23rd, Oct. 14th, Nov. 4th
If you are interested in starting a 4-H Club, please contact hudson4h@njaes.rutgers.edu.