Main Content
4‑H clubs are run by community volunteers and teach youth life skills around an array of project areas. The clubs are offered for Hudson County youth.
Once youth are registered 4‑H members they are welcome to participate in county, state, and national 4‑H events.
Current Long-Term Club List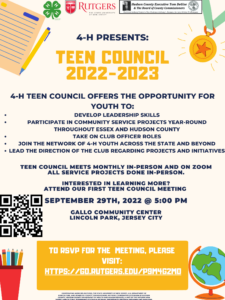 4-H Teen Council, Grades 8th-12th

4-H Teen Council will meet again on September 29th, 2022 at 5 PM AT Gallo Community Center Lincoln Park, Jersey City.

4-H STEM Ambassadors
Lincoln Middle School 4-H Club in Kearny, School-based
Tomorrow's Future 4-H Club in Jersey City, Community center-based
Hudson County 4-H Advisory Board, Adult Volunteers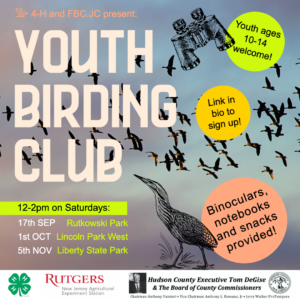 Current Short-Term Club List
4-H and FBCJC Youth Birding Club (ages 10-14)

Youth will gain skills to identify birds in their neighborhood and learn about their importance to biodiversity while enjoying the outdoors.

4-H and Native Plant Society of NJ, Hudson County Chapter

Native Plant Pollinator Club
TECCS Student Garden Program
If you are interested in starting a 4-H Club, please contact hudson4h@njaes.rutgers.edu.